The Bay Area and Southern California will both rep the Golden State at this month's MESA National Engineering Design Competition (NEDC) in New Mexico.
Student teams from Orchard Park Middle School in the Antioch Unified School District and Costa Mesa High School in the Newport-Mesa Unified School District bested teams from across California. They were named state champs and now move on to nationals.
The engineering competition challenges students to solve a problem using coding and a microprocessors as the main component of their design. More importantly, teams must "design for equity" meaning they solve a problem that minimizes or eliminates a barrier for an individual or community. That could mean projects that address access to clean water, food scarcity, a physical or learning disability or a social inequity.
The first place middle and high school teams from each of the seven MESA state events will compete for top bragging rights June 23-24. It will be a battle of the brains in four categories: design brief, technical presentation and interview, poster and symposium, and prototype pitch.
The national competition is a part of MESA Days, an key component of the program's success. Each year MESA middle and high school student teams spend the better part of the school year designing, developing and building electronic devices that solve real-world problems. Competing in these hands-on contests help MESA students connect the math and science principals they learn in the classroom to real-world application.
So let's meet the teams that have made California so proud!
Team Therm-Alert
The all 8th grade Orchard Park Middle School team developed a health device that helps underserved field and construction workers detect any possible heat-stroke symptoms.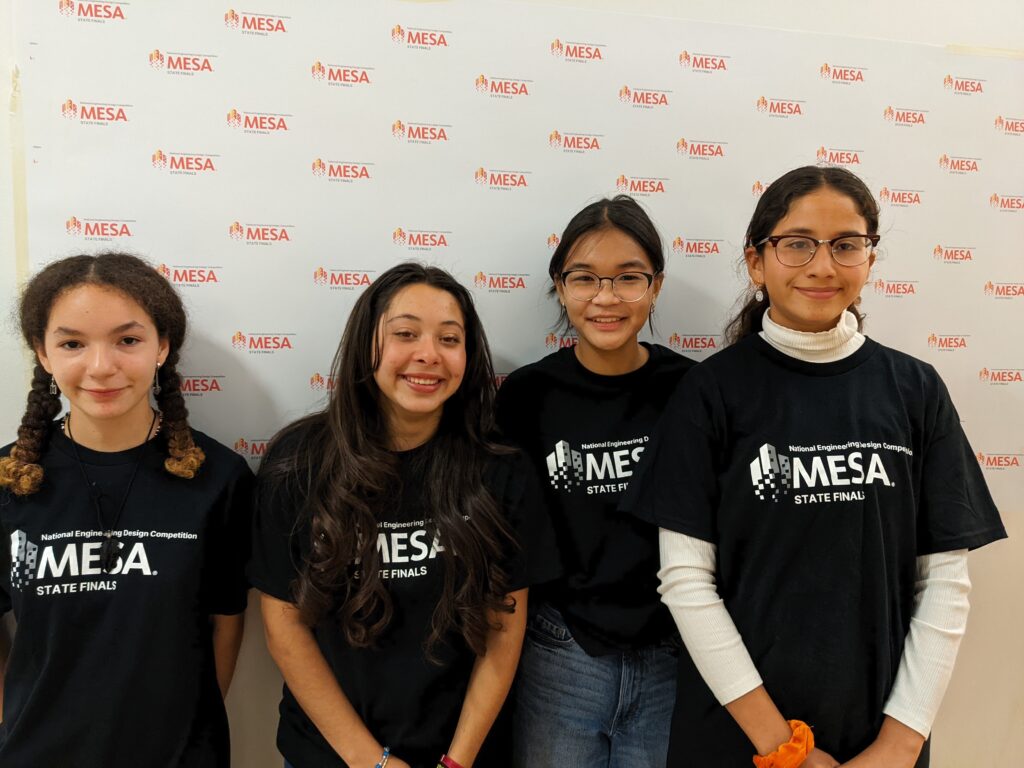 Natalia Cortez, plans to study law or computer engineering; Yaretzi Costilla wants to become a pediatrician; Bethany Fumar, plans to study biomedical engineering; and Bella Rose wants to study law.
The students completed their project without any former coding experience, self-taught themselves how to code the arduino module, and 3D print the container for the microcomputer.
The team is supported by their MESA teacher advisors Susan Caguyong and Staci Woolf who are both first generation college graduates themselves.
Team TaskBug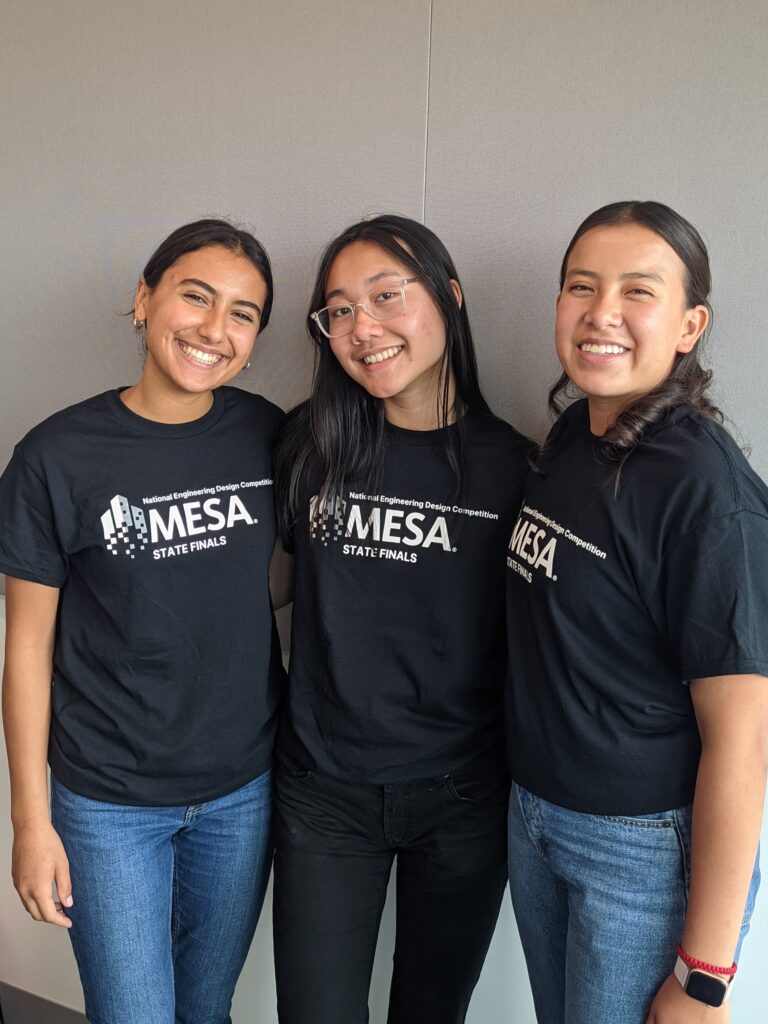 TaskBug is a low cost-device with an accompanying app for families to keep track of their children's daily activities when left without parental supervision. It connects parents to their children while they're away and is able to reinforce habit building for the child's future success.
The team of all seniors are Sophia Catania who plans to attend UC Irvine for mechanical engineering; Lucero Islas who plans to attend San Jose State for biomedical engineering; and Lena Nguyen who plans to attend UCLA for neuroscience.
Lena competed in her first NEDC competition in 8th grade, where her team placed 2nd in the regionals round. During her sophomore year the trio placed first in the preliminary round with their safety jacket device before future competitions of that year were canceled because of the COVID-19 pandemic. Determined to continue forward the following year, the trio built a vital signs monitoring system called MonitorMe that helped them place 2nd overall in last year's NEDC.
Sophia comes from a family of siblings who have all participated in MESA. Her sisters went all the way to the national competition for the prosthetic arm challenge and continued their MESA experience helping the program as undergraduate staff at UCI.
Lucero's list of accomplishments include back-to-back STEM on the Sidelines Competition First Place wins for the Design and Build Category, and back-to-back State Championships for NEDC, which makes this her back-to-back NEDC Nationals appearance.
The team is supported by their MESA teacher advisors Quang Nguyen and Racine Cross.
We wish the teams good luck in New Mexico and with their educational journeys!