Student Programs
MESA serves students across the educational pathway 
through three complementary segments.
MESA's college prep program sparks early interest in STEM by bridging classroom concepts to real-world practice, and inspires youth on their STEM journey to higher education and their future success.
MESA serves more than 15,700 college prep students in California.
Here's how MESA students succeed:
Individual academic planning
Hands-on math, science and engineering, competitions
Exposure to technical careers and role models
MESA periods (during and/or after school)
Teacher professional development
Parent/Student
In order to participate in MESA, a student must attend a school that offers the program.  If your child has a passion for math and science, wants to excel in these subjects and attend college in pursuit of a degree in a STEM field, please speak with your child's guidance counselor or math/science teacher to find out if the school currently has a MESA program and if s/he is eligible to participate. (Click here for a list of current participating schools.) If the school does not currently have a MESA program, ask if there are plans to bring it to the school in the near future. 
School administrator/teacher
If you are interested in establishing a MESA program at your middle- or high-school, please contact the MESA college prep center nearest to you.  You can find locations of our centers here.  MESA center team members will be happy to discuss the feasibility of offering the program at your location.
MESA Day events are geared to showcase students' math and science know-how. These future technical professionals have spent months creating and designing math and science projects.
The project-based learning events include launching gliders, testing the strength of bridges, and evaluating human-centered design projects, and help to solidify the core math, science and engineering skills students learn in class. The competitions bridge classroom learning with real-world application and encourage students to think beyond what they learn in physics, calculus or geometry.
These experiences are particularly poignant for MESA students who attend low-performing schools, come from low socio-economic background and are typically the first in their families to attend college. For MESA Day rules please visit our resources page.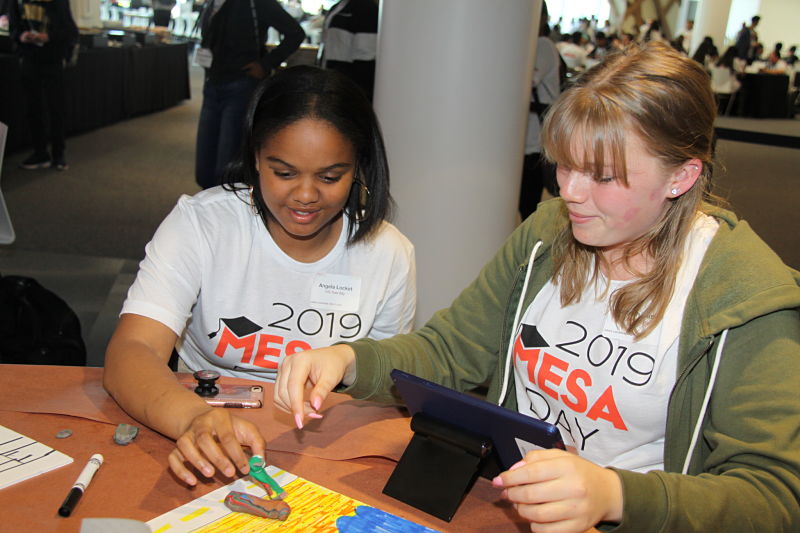 Students
Community College
MESA's community college level program produces a diverse population of transfer-ready students to advance their STEM educational journeys in 4-year university programs. If you are student interested in participating in MESA, please contact the local center director to get enrolled.
MESA serves about 5,700 community college students in California.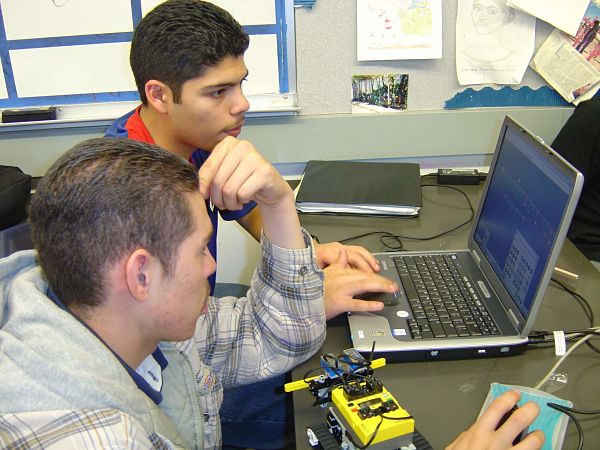 Success transfer in STEM through:
Dedicated study center for workshops, community building, support
Local industry board connects students to workforce
Students clustered in core math and science classes to study collaboratively
Academic/transfer counseling
The MESA university program supports underserved and underrepresented students at 13 public and private California universities in attaining degrees in engineering and computer science. If you are a student interested in enrolling in MESA, please contact your campus center director for information. If you are a university administrator interested in hosting a MESA program please contact our office.
MESA serves more than 2,500 university students in California.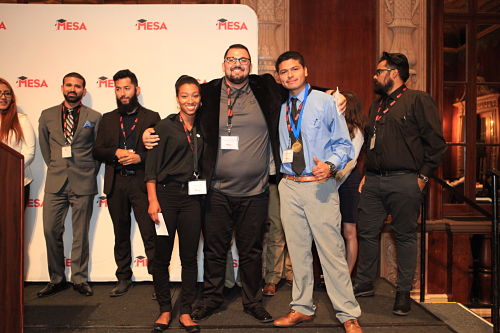 Parent- and family-involvement strategies
Academic continuum that include:
Standards-based mathematics & science curricula
Individualized academic planning
Peer group learning and class clustering
Exposure to college and career opportunities
Personal and social skills enhancement
Undergrad 
Enrichment
Additional Activities
MESA Company Convos connects students to industry with  is a new monthly series. MESA students interact directly with industry professionals from top companies during these virtual Ask Me Anything sessions. Presnters share about company hiring and culture, career paths, recruitment, how to improve your resume and more! Companies including Oracle, Zymergen, Uber, PG&E and others are already involved. For more infomation, contact Mindy Rieger. 
The MESA mentor program matches employees with engineering and computer science students for six months to one year. Mentor pairs meet monthly to discuss student areas of study and interest as well as non-academic topics that will prepare students as they launch their careers.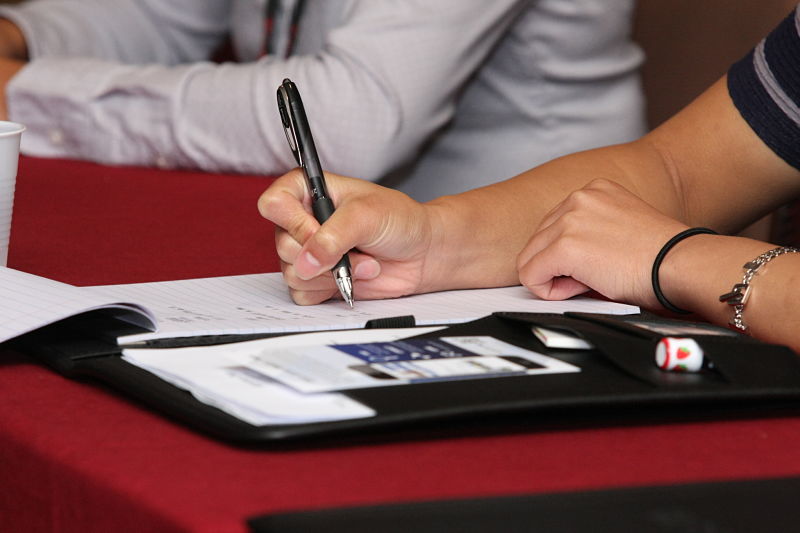 Students get an insider's look into STEM careers and the workplace culture of the host company. It helps them make more informed decisions on where they might like to focus, and encourages them toward their career goals. Employees gain enhancie their own career development, specifically in coaching, leadership and recruiting skills. Companies benefit exposure it to an emerging talent pool of diverse individuals with a high success potential, and by getting to know these prospective employees in a more intimate and longitudinal manner than traditional hiring practices.
The MESA IDEA Accelerator project is a course that will engage participants in developing solutions to societal problems using a human-centered design process.  Through this course we want to develop and inspire MESA students to be visionary entrepreneurs.
During the course, students will be guided through three phases of the human-centered design process: inspiration, ideation, and implementation to produce a marketable prototype pitch presentation.  The presentation will be reviewed by the instructor and will also be made available to industry and corporate partners.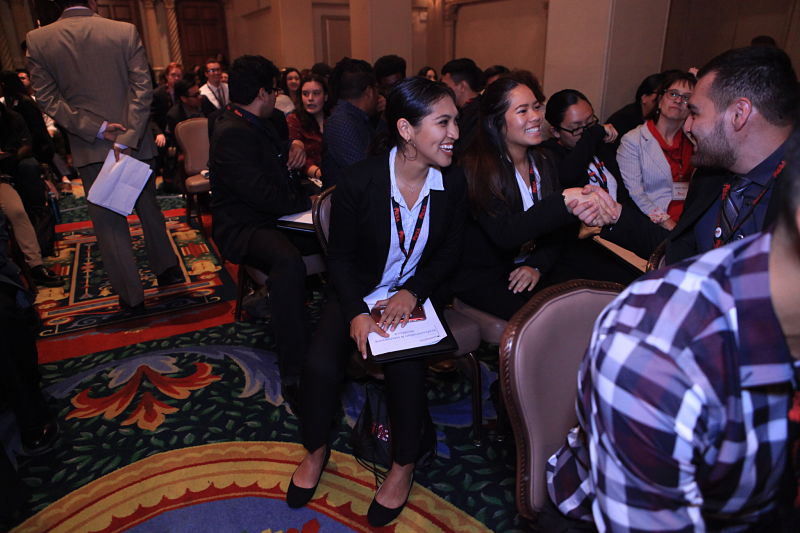 Student Leadership Conference
The MESA Student Leadership Conference (SLC) bridges students from college to career, empowering them with soft skills they need to succeed in their future careers. It is an annual convening of like-minded students with leadership potential. More than 200 selected students from 30 plus campuses attend this signature event, which corporate partners and volunteers support. Interaction with industry representatives inspire these students to lead effectively, within their schools, communities and professional lives. The SLC highlights the future diversity in the STEM workforce.
The MESA SLC is a great example of an event that helps to develop our next generation of STEM leaders
Participation
How can I participate?
For college prep students, please check to see if there is a MESA program offered at your middle or high school. 
For community college and university, 
contact the local center director for participation information. 
If you are a university administrator interested in hosting a MESA program please contact our office.