Two all-female teams from the UC Irvine MESA center were named state champs for engineering solutions to benefit society.
MESA's National Engineering Design Competition Designing for Equity State Championship was held virtually this May. The contest is a culmination of teamwork and engineering acumen by middle school and high school teams throughout California to create a solution to a real-world problem using a microprocessor.
Thi Nguyen, Audrey Nguyenhuu, Aubrey Spallone and Kayla Stanley of Costa Mesa Middle School make up the winning middle school team.
They created Active Tracking Air Knowledge, a mobile app that analyzes air to help people in underprivileged communities and people with disabilities to identify poor air quality. The team recognized that people in underserved communities are more likely to be exposed to harmful air.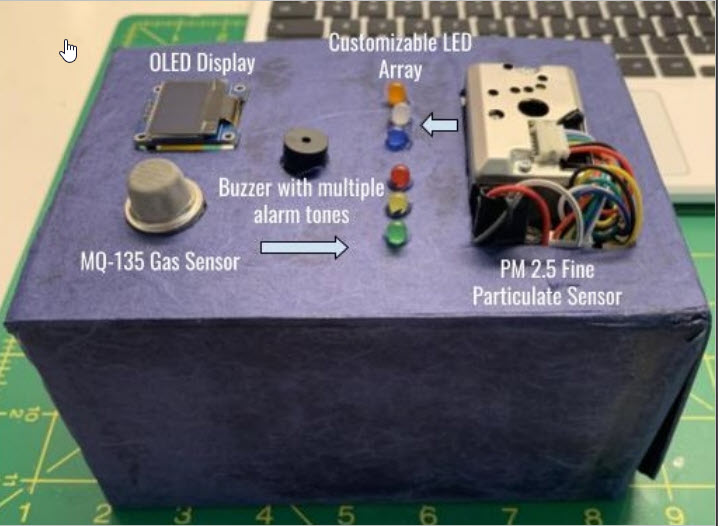 "We have learned that we can make a difference by eliminating inequities so that certain populations can continue thriving positively without having to worry about something that they are completely unaware of such as bad air quality," the team said.
Sophia Catania, Lucero Islas and Lena Nguyen of Costa Mesa High School make up the winning high school team (pictured above). Both teams are led by MESA teacher advisor Quang Nguyen.
That team devised MonitorMe, a portable, low cost health monitor that benefits low-income communities who have less access to doctors due to lack of healthcare and also acts as a personal device such as for those who are hesitant to leave their homes due to COVID-19.
"Through research we conducted, we learned about healthcare disparities facing our world today and how closely linked they are to racial and wealth inequities and lack of accessibility for the visually and hearing impaired," the team shared in their brief.
The approach of designing for equity allows our students to use their STEM know-how and creativity to make their communities thrive.
"With empathy and a focus on human needs at its core, human-centered design aligns perfectly with MESA's equity mission," said MESA Executive Director Thomas Ahn. "Beyond serving as a source of diverse STEM talent for corporations and institutions, we believe it is critical for MESA to prepare our students to lead, to create, and to push boundaries."
Both teams move on to compete in the nationally against winning teams from seven other MESA states in June.
…And a fun fact: Sophia Catania comes from a MESA family! Her two older sisters, Sarah and Sylvia, were part of a team that placed second at the 2016 NEDC. Sylvia is now working as a biomedical engineer after graduating from UC Irvine in 2021 and Sarah is a current electrical engineering student at UCI. Go MESA!
Shout outs to the runners up:
Middle school: Fourth Place: Cubberly K-8 – CSU Long Beach MESA Center; Third Place: Los Baños Middle School – Fresno MESA Center; Second Place: Orchard Park – CSU East Bay MESA Center
High school: Fourth Place: Rio Mesa HS – UC Santa Barbara MESA Center; Third Place: Sato Academy – CSU Long Beach MESA Center; Second Place: JFK High School – CSU East Bay MESA Center