2021 Student Leadership Conference
Overview
Nov 5-6  Hayes Mansion, San Jose
The Student Leadership Conference (SLC) brings together engineering, computer science and other STEM undergraduate students with industry professionals to develop the next generation of diverse leaders. These MESA leaders are the new face of STEM. The conference is an opportunity for STEM students to develop "soft skills" necessary to successfully transition from college to professional careers.
2021 COVID PROTOCOLS
While we plan to host the conference in-person, due to the ongoing Covid-19 pandemic, MESA will continue to adhere to local and state health guidelines, which could change unexpectedly. We will also offer workshops virtually to allow more MESA students to benefit from the programming. The following requirements will be in place for the in-person event for all students and guests:
◦All attendees required to be vaccinated – check box during registration process
◦Elevated cleaning/sanitizing of all lodging rooms and public spaces
◦At this time, expect to wear masks indoors (may change, subject to local regulations)
◦Sanitizing stations, hand sanitizer, masks made available
During the conference students:
Explore career opportunities with corporate recruiting panels
Gain career skills with leadership sessions and workshops
Expand professional networks with MESA alumni panels
Develop interviewing skills with virtual mock interviews
Industry partners provide webinars, panels, conduct mock interviews and identify candidates for internship and full time STEM positions.
Attendance
SLC Attendance
The conference is an invite-only event for community colleges and university students.
MESA computer science, engineering and other STEM undergraduate students
More than 30 MESA center directors from throughout the state
Some workshops will be offered virtually through MESA's exclusive community in the Canvas recruitment platform. Please see flyer below for more information.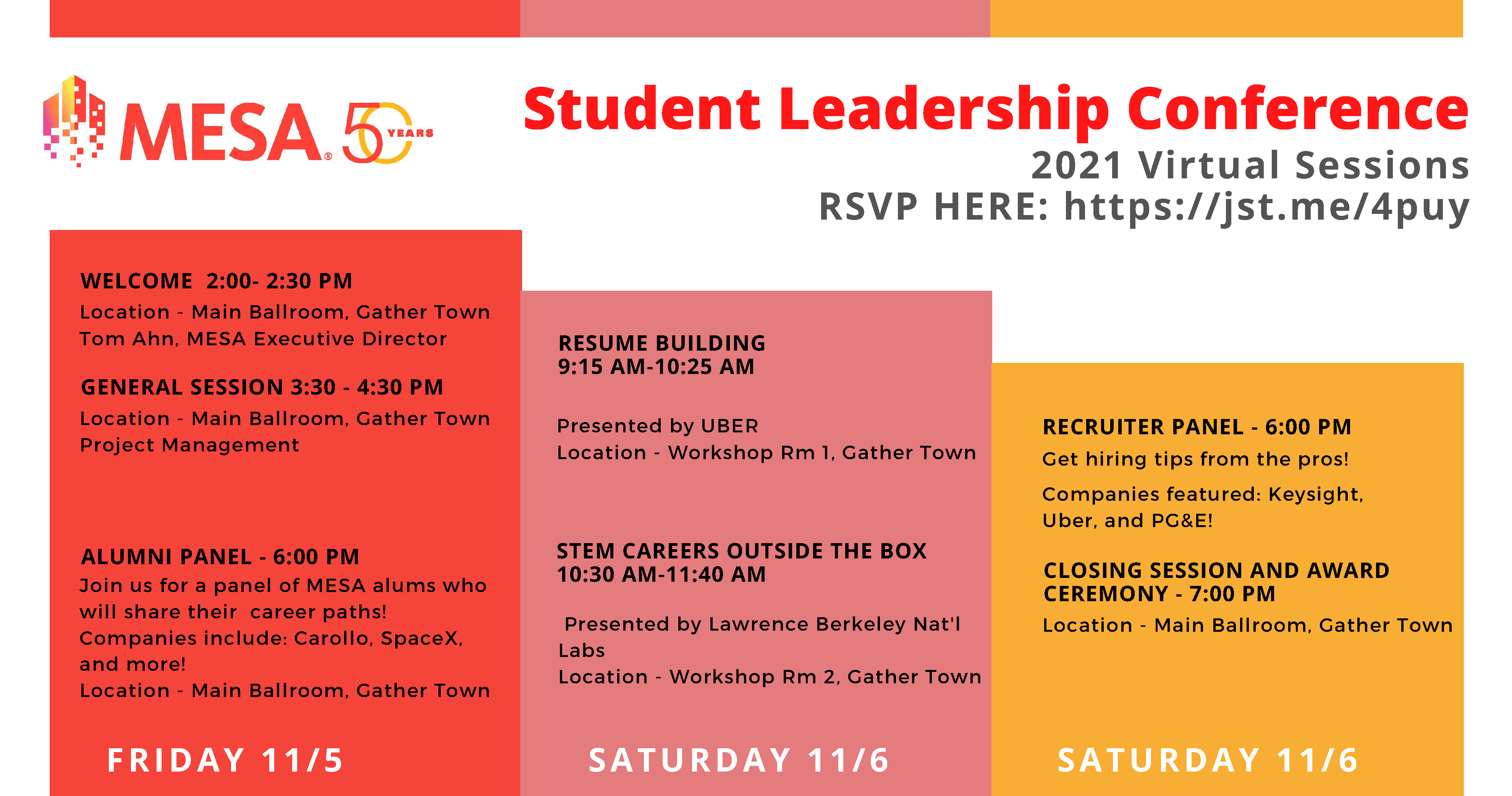 Support
Support the Student Leadership Conference
Sponsorships include myriad opportunities for branding, student impact, talent recruitment and access to high caliber MESA students.
Sponsor benefits:
Diversify you company's talent pipeline
Access future STEM leaders
Engage employees through a tangible opportunity for your company to give back
Catch the creative spark and energy of young scientists
Inspire and be inspired
For more information, view our SLC 2021 Sponsor Packet.
If you are interested in supporting the Student Leadership Conference, or to find out more information, please contact: